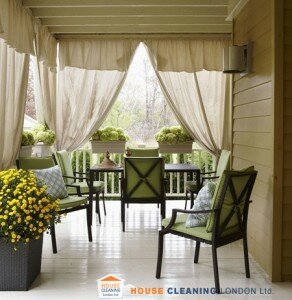 Warm and sunny weather is always associated with splendid time. Whether you are on a vacation, or just with your family in your backyard garden, the sun, the smiles and the children's game just make us really happy. Suddenly, we realise that a person does not need a lot to have fun and to feel complete. Well, speaking of all these, we want to make sure you are going to have amazing time at the outdoors, when the rain will stop and sun will start shining. Probably, you have made the first steps of the summer season preparation. Though, there might be a big chance for you to forget something. So, see the things we miss in outdoor cleaning and don't allow these lapses ruining your positive mood:
Outdoor trash cans. Of course, you will never forget to empty them. However, a good sanitising from the inside and from the outside could be good for your trash can to stay fresh and not that nasty smelling. Grab some rubber gloves and polish them finely with your favourite green remedy.
All the light switches. As you probably guess, these items attract most of the bacteria around you. It is due to the fact that the switches are so frequently touch by different dirty hands. Disinfect them with white vinegar.
Door handles and knobs. The situation here is similar to the light switches. Wash the door handles and knobs, too. You can even use the same homemade recipe for a cleanser – few drops dishwashing product, two tablespoons of green tea tree oil and lukewarm water.
Windows from the outside. Of course, this might sound too dangerous for you. Though, you can always find the number of the last post tenancy cleaners who helped you. Call them, because they will definitely have an offer for your windows, too.
Porch lights. The lighter the outside environment will be, the hotter your summer parties will become. Keep in mind this! Besides, why do you need lighting system if it does not bring enough light due to its big layer of dirtiness?
Under the patio furniture. Just like the regular cleaning rules say it – wash the sofa and under sofa, too – you will have to gather the leaves and all the garbage under the bench and the garden pieces of furniture.
As you see the cleaning work at the outdoors isn't that much. Though, if you do it, the fun will be more!