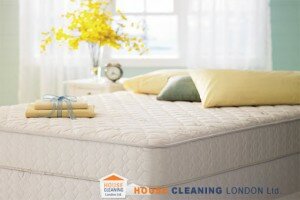 The perfect hygiene of your bedroom chambers is very important. There is no need to remind you that bed bugs may infect you with disease and allergies. In order to avoid all of these the proper care for the bed and the mattresses becomes an essential and agenda task in your household maintenance. See our tips for this chore right now:
Sheets are not enough to protect your mattress. As a matter of fact this is not their function. Sheets are made to bring you more comfort, but other items bring more protection for the mattresses – the protectors. Get protectors for your bed and feel more confident about your nice sleep and good health.
Though, only getting the protectors or installing them over the mattress is not enough. Some comprehensive treatment is also necessary, so you will be able to preserve the bedroom hygiene in the condition you want.
If you use professional cleaning services, ask the regular house cleaners to include the protector sanitising as an ordinary chore during their visitations.
If you count only on your own cleansing efforts and tidying up abilities, disinfect the mattress protectors by putting them in the laundry. Do not worry – nothing is going to happen to them. Most of these protectors can be washed in 40 Degrees and the best thing about them is that they dry in a flash of second.
This sounds better and easier that sanitising the entire mattress doesn't it? Probably, you know how hard it is to wash, wipe and then dry it. Everyone, who has ever performed an end of lease cleaning, knows that mattress restoration is a huge and harsh job! Why doing this to yourself, when you can cover it with protectors that are easy to be maintained?
Last, but not least, do not forget to vacuum the mattress protectors once in a while, too. This is an extra protection against bacteria.
Mattress protectors – sounds practical and convenient, doesn't it?