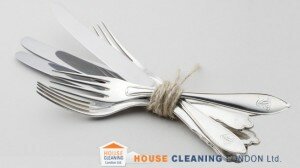 Because of the constant use of your stainless steel knives, forks and spoons they might become dull and spotted. And this is valid, even if you regularly clean them with proper detergent in the dishwasher. The stubborn spots on the surface remain even after they are supposed to be perfectly cleaned. These spots can be caused by mineral deposits in the water or if you tend to collect immediately your stainless steel or silver cutlery without polishing with soft fabric cloth.
If you want to make your utensils shiny, beautiful and looking like brand new, try these wonderful recipes:
The great power of vinegar
Maybe you already know that vinegar is the best environmentally – friendly cleaning solution that can help you with a lot of cleaning issues, including cleaning of your spotty and dull cutlery. Just dip a soft kitchen towel in a bowl full of vinegar. It is not necessary to soak the cloth in the vinegar or dilute it with water. Polish your spotty knives and forks with circular motions and without having any worries that you will damage their surface.
Baking soda

– another universal cleaning solution
If you cannot depend on professional domestic cleaners to clean your spotty knives and forks, bring back the sparkle of your utensils on your own. Soak them in hot water and then add a spoon of baking soda which is a great help in removing different kind of stubborn stains. Leave your cutlery to soak in the liquid for a few (not more than 10-15) minutes and then rinse. Dry immediately with a soft, clean cloth and circular motions. And voila – your spotty knives and forks shine like a mirror again.
Polish using olive oil or lemon juice
Probably you are aware of the fact that when you move out from your apartment you should pay really great attention to the end of rental cleaning. Spotty knives are part of it too. Dampen a soft cloth in olive oil or lemon juice – both are perfect solutions for polishing your landlord's stainless steel or silver knives and forks. Moreover olive oil will protect them longer from tarnishing, so he will enjoy them sparkle longer.
Whichever of the recipes you choose, your cutlery will shine again and make your life a bit brighter.