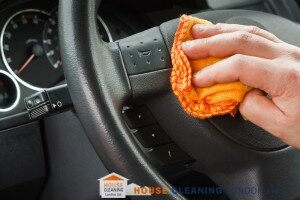 You want to make your car looking like a new one but you have about 15 minutes only? It is not a mission impossible. First of all, make sure you've gathered all of those tools: garbage bags, glass cleaner, a small plastic bin, car cleaning wipers, a flat-head screwdriver, air-conditioner treatment, a hand vac and paper towels. Instead of a glass cleaner, bought from the store, you could use some vinegar. That is quite effective and eco-friendly solution. Here are the tips for you:
If you have any items that should not be in the car, toss them into the small bin. Then, throw the garbage in the bag. Spray the cup holders with some glass cleaner and leave them for a while;
Use the wipes to sanitise the dashboard, inside door pockets, center console, gearshift and the steering wheel. Spritz air-conditioner in the air vents;
Disinfect the leather seats with some wipes. The upholstered seats, however, must be vacuumed later;
Use the paper towels for wiping the cup holders out. Then do the same with the buttons, switches on the dashboard and the flat-head screwdriver;
Put some glass cleanser (or vinegar) on the paper towels and wipe the windows. We bet you're familiar with that task because of your domestic cleaning. Although, don't forget to disinfect the sunroof, windshield and rear window;
Remember that floor mats should be removed. In order to dislodge any dirt you must whack them against each other;
On the driveway, you have to vacuum the floor mats using the bare hose of the hand vac. That way you will reach maximum power. It's not necessary to attach a tool. To be able to hit every spot (almost like the cleaning professionals) shift the front seats forward and back, when vacuuming the seat upholstery.
And the last step is to replace the mats and return the seats to the original positions. Open the car doors so you will let some fresh air to blow through.